When it comes to dining out in Portland, there's no shortage of delicious options for every kind of appetite or budget.
While the list below is certainly not exhaustive (just message me if you want the long version!), I've tried to narrow this down to my usual haunts and absolute must-tries.

Image from Jacqueline

This small but classy seafood restaurant and oyster bar in SE Portland is my favorite. From the vintage china, super-fresh and hyper-local PNW ingredients, and extensive wine list, this is my go-to place to take friends and family that are up for a little culinary adventure — plus the $1 oyster happy hour is hard to beat. Reservations recommended, though you can usually snag a table right when they open or later in the evening as a walk-in.

Image from Güero
The best part about Güero is that it's walking distance from me. The worst part about Güero is that it's walking distance from me. They specialize in tortas (Mexican sandwiches) and have great vegetarian options and cocktails. I love rotating through the different tortas depending on my mood, but my favorites are the carnitas or masa y papa tortas, sprinkled with a bit of their homemade carrot habanero hot sauce. The vibes are always right and the decor itself is a feast for the eyes. As a walk-in only spot, you'll know you've arrived when you see the line out the front door. 
Image from Ken's Artisan Pizza
What started as a temporary Monday night pizza pop-up at Ken's Artisan Bakery in NW Portland has turned into a full-fledged, separate restaurant and one of Portland's most celebrated pizza joints. Ken's Artisan Pizza is tucked into an unassuming residential street in SE Portland. Their pizzas are wood-fired to perfection — nobody would fault you for trying multiple in one sitting. My go-to pies are the Brooklyn + whatever white, cheesy seasonal pizza they have rotating through that week. Don't skip the Caesar salad either: it's topped with croutons made from Ken's world-famous bread and generous slices of grana padano. Another walk-in only spot, come early and be prepared to wait: the line starts forming well before they even open.
Image by RaeAnn Serra
Eem is what happens when Thai food meets Texas bbq, but it's not the traditional Thai bbq you'd expect. Eem (created by the same owner of Portland staples Laangbaan, Hat Yai, and Paadee) partnered with another Portland staple (Matt's BBQ) to elevate vibrant Thai dishes with smoky, fall-apart meats. My go-to order includes the white curry with burnt ends and the brisket fried rice. The food is spicy — and a good excuse (if you even need it) to wash it down with one of their craft cocktails (or 2). Currently, reservations are only available for parties of 10+, so come early or be prepared to be turned away (they frequently have to close their waitlist early due how popular it can get during the evenings).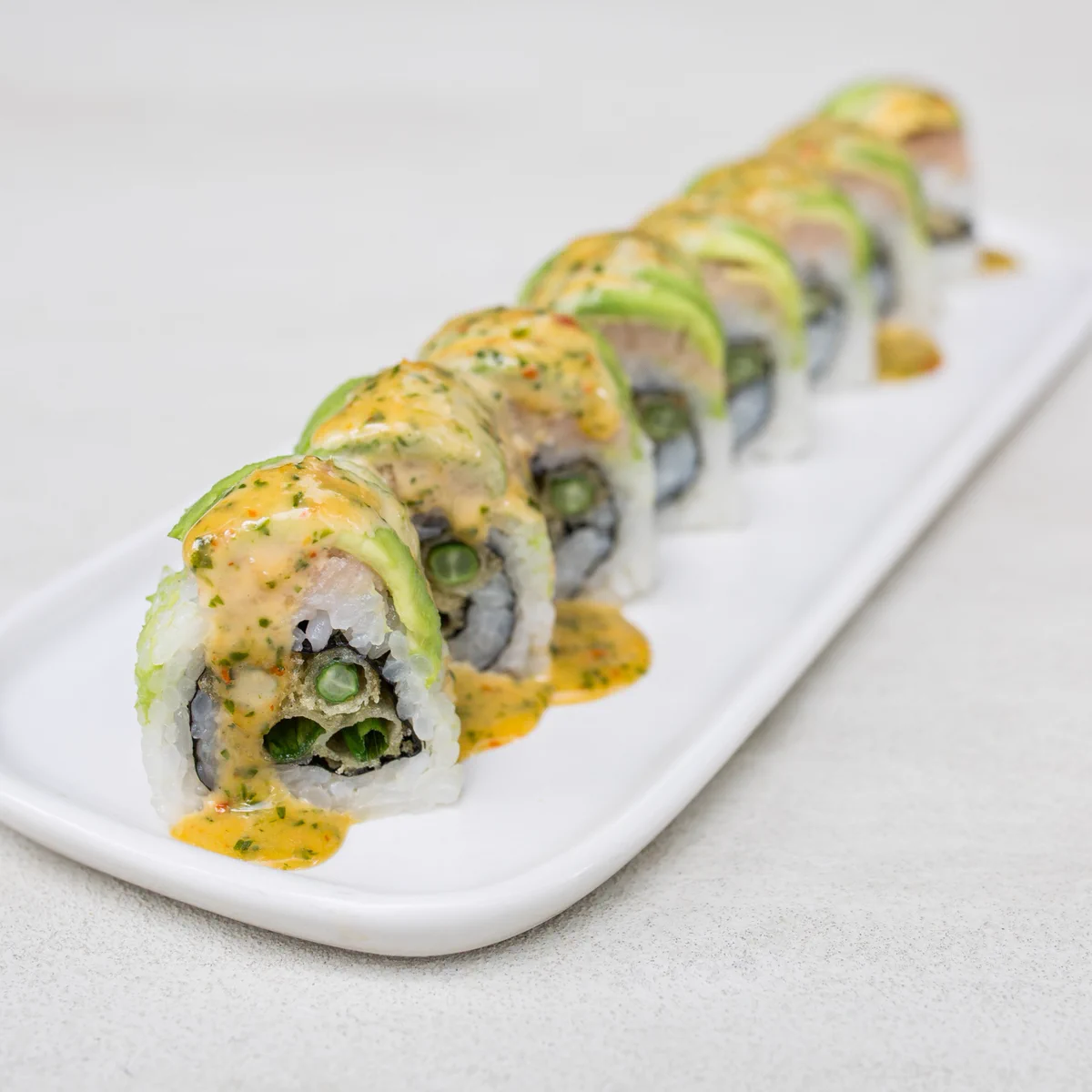 Image from Bamboo Sushi
Before I moved to Portland I had dreams about Bamboo Sushi's green machine sauce. Now that I live here, I still occasionally dream about the green machine sauce. Bamboo Sushi focuses on sustainably caught seafood. They list the source of each piece of fish on their menu and have a solid amount of vegetarian options for a sushi spot. My favorite roll is the Green Machine with albacore, and I love ordering their nigiri "yakumi" style, which is a preparation of toppings or seasonings meant to compliment each piece of fish. They've seen a lot of growth in recent years and now have several locations in/around Portland (and even some out-of-state), so you should have no problem finding a reservation or just walking in.
Image from Portland Monthly
As someone who grew up not really loving chicken wings, FOTM has completely changed that opinion. They make all their sauces in-house and can serve it alongside big portions of the carb of your choosing. I'm partial to the frisbee—yes, they serve it on a literal frisbee—of tater tots. My favorite sauces are lime cilantro, spicy peanut, and raspberry habanero, but they have tamer flavors if you can't handle the heat. This place is super casual and great for families because it has something for everyone. Walk-ins or take-out is the move.
Last but absolutely not least is Pip's Original Donuts, who specialize in freshly-made mini donuts and chai lattes. The donuts are fried to order with a variety of toppings, including a seasonal flavor that changes regularly. My pro tip is ordering one of each of the six flavors for each person in your party, then having thought-provoking conversations about which was the best and why. As with a lot of popular places in Portland, the lines can be long (Portland loves its lines!) but moves quickly.